You might not have so much money to afford the CCTV security cameras for your home, shop or any small business needs, therefore, your would like to have some cheap but still excellent alternate surveillance camera. Smartphones, most of the Android devices are having the functional camera groups that are made to deliver good quality images. You might have never thought that you could also use the camera of your Android devices to work as a security camera wireless, but that is possible in real. Here in this article, we will tell you about the method with which you can transform your basic Android device that is having the camera, into a functional security camera so as to monitor some place. Go through the article that is given below to know about the method.
Use Your Android Phone As a CCTV Security Camera
The method is quite straightforward and easy, and you just need to follow simple guide discussed below, and with that, you can easily convert your Android into a security camera. So follow up the steps below to proceed.
Steps To Turn an Old Android device into a Security Camera:
Step 1. The very first thing that you will have to do is that you has to download and install the IP Webcam app from the android play store, i.e., Google Play Store. This is a great app that helps the users to stream the camera video from the Android device to the network from where the registered users can easily watch the streamed live view from the camera. This app is available as two options one is entirely free but with fewer features and the other is paid ($3.99) with some more features.
Step 2. Now after installing this app on your android device just launch it and then from the settings of the app just set up the video preferences, effects and some other aspects of the video that you would see later on. Using the app itself you can also log in and register to the Ivideon with which you can broadcast the view of the camera. You will have to register for this if you want to use your camera of Android as the security camera and want to view the camera video live anywhere.
Step 3. After all that settings, you are now ready to start your video stream of the Android device, just tap the Start Server button placed at the end of the app itself on the device. This will begin the device to capture live video around and then stream it back to the server. To view up the stream anywhere you just have to enter up the IP address that you will get on your Android device and then paste it in the address bar of the web browser on any other device. Just go to that address, and you could see the live video stream from the camera of Android online.
Step 4. At last, you can now set up your Android device anywhere as a security camera by using up the tripod stands or any other way. The only thing that makes it not a great option for using the Android device as a security camera is that you will have to charge up the Android device every time it goes on nil battery.
Also Read: How To Download Paid Android Apps & Games For Free
Using DroidCam
DroidCam turns your Android device into a wireless webcam letting you chat on Skype, Google+, and with other programs like OBS & XSplit for your live streams to Twitch / Youtube. You can also use DroidCam as an IP webcam, or Surveillance Camera, via an Internet browser virtually on all networks.
Step 1. First of all, download and install DroidCam on your Android smartphone.
Step 2. Now you will see an thank you screen like below. Just, tap on Next to continue.
Step 3. Now you will be given the tutorial on how to use DroidCam. Simply tap on "Got It" to continue
Note: You must be connected to the same WiFi network
Step 4. Now you will be given both Wifi IP a Browser IP Cam Adress.
Step 5. Now open up your web browser from your computer and type in the browser IP address on the URL bar and hit Enter.
Step 6. Now you will see your Android camera will be shown on a browser. You can Zoom out, Zoom In, Save a snapshot from your browser.
That's it! You are done. This is how you can use DroidCam as an IP webcam, or Surveillance Camera, via an Internet browser virtually on all networks.
Also Read: 11 Cool WhatsApp Tricks To Chat Like A Pro
Using Manything App
Manything converts your spare smartphone or tablet into a sophisticated home security camera in seconds. With live streaming, motion detection alerts and cloud recording it's the easy way to monitor your home and pets when you're away.
Step 1. First of all, you need to download and install Manything app on your Android smartphone
Step 2. Now open the app and it will ask you to grant the needed permissions. Simply, tap on Allow to continue.
Step 3. Now on the very next step, you need to sign up with your email id.
Step 4. Now you need to tap on the "Camera" option and grant the needed permissions by tapping on "Allow"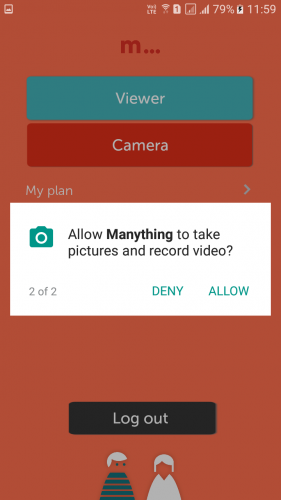 Step 5. Your phone camera will start recording.
Step 6. Now from your computer, you need to go to manything.com and then click on "Log In"

Step 7. Now Login with your email address and password.
Step 8. Here you will see all your recordings, you can play it from there or can download it.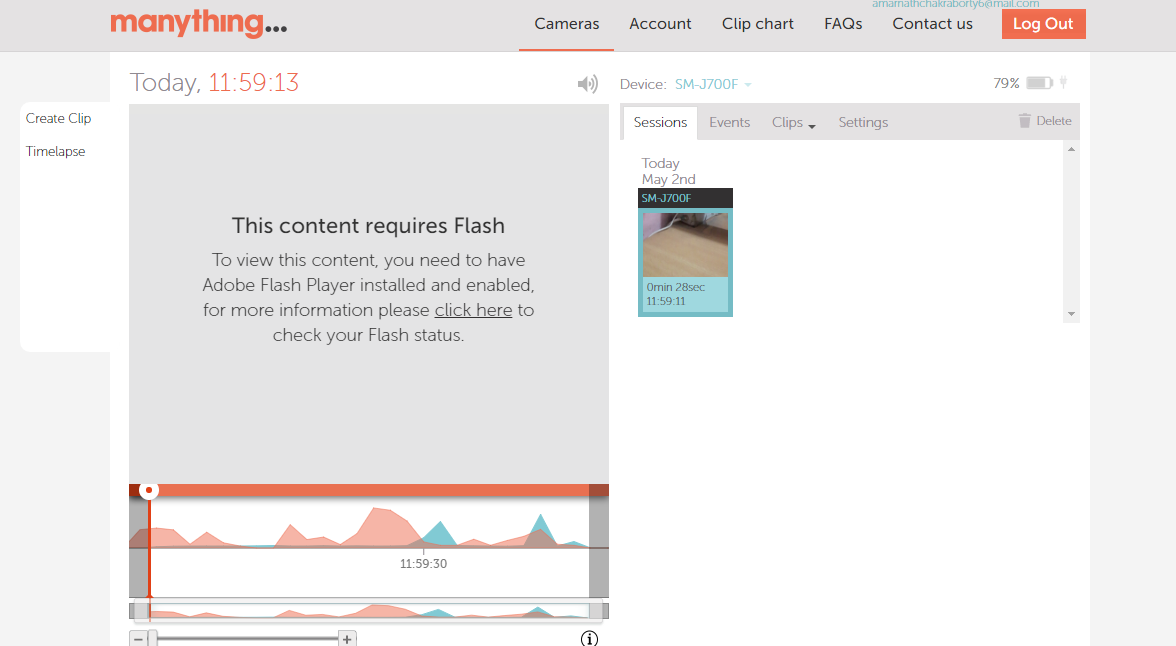 That's it! This app doesn't need any working wifi connectivity to work.
So this is all about How to turn an Old Android device into a Security Camera. Now if you have any old camera smartphone that is either of no use to you then you can use it as the security camera to monitor any place while it's your home or your small business. This method won't require any modifications to the hardware of the smartphone, and hence you can still use your Android device after all that.