If there was ever a debate on which smartphone app we use the most, the winner would definitely be WhatsApp. The popular instant messenger is easy to use but it has some hidden features and tweaks that we tend to miss out on. Moreover, WhatsApp keeps on adding features discreetly, so it's important for us to be up to date. If you've been looking to get a hold on all WhatsApp tricks, you are at the right place. We love tinkering and as a result, we have found some amazing tricks. Also, WhatsApp has removed its subscription plans and the service is free now, so what better way to celebrate than talking about some cool WhatsApp tricks.
We are listing down both basic and advanced tricks for WhatsApp. So, let's begin with some basic ones. Shall we?
1. Send Apps and games Via WhatsApp
Yes, you can send Apps and games via WhatsApp.
Sending an app:
Download & Open ES File Explorer
Swipe Left (from right to left) until you find a list of all your installed apps under "APPS"
Long Press on the app you want to send until it shows that it's been selected
On the bottom of the screen, there is a "backup" option, select it
Swipe Left again, you will find the app backup, this is the file you will be sending NOT the original application
Long press on the app once again until its selected
At the bottom of the screen, there is an option to rename it, select that.
A rename window will appear, this is where you must add an extension to the existing file name, type in " .txt " and enter
Receiving an app:
When you receive an app it's usually either in .txt or .pdf extension (see step 9 above), so you will also need ES file manager to convert it back to its original extension
Download the file on WhatsApp like any other media you receive
Go to ES file manager, go to Local/Internal storage folder, find WhatsApp folder, open the WhatsApp folder, select WhatsApp Media, in Media open WhatsApp Documents (since it was sent as a document it should be in this folder)
Long press and select the app, at bottom of screen select rename
 A rename window will appear, remove the ".txt" portion of the name (or whatever extension was used) and keep the file ending name as ".apk" only.
You can now install the app from this location on to your device.
2. Download WhatsApp Status Images and Videos
A few days back, WhatsApp introduced "WhatsApp Status" as a gift to users on its 8th birthday. WhatsApp Status is apparently a clone of Snapchat's stories which WhatsApp is using to replace its basic "text only" status. The update has been rolled out to over a billion users on Android, iPhone, and Windows Phone. The new WhatsApp Status aka WhatsApp Stories allows users to share moments in the form of personalized photos, videos, and GIFs. The stories appear in a new 'Status' tab, where you and your contacts can view them within 24 hours.
However, WhatsApp doesn't save your friends and family status to the phone gallery, unlike the media. Perhaps, if you want to download WhatsApp stories on Android which includes photos, videos and GIFs then you can do it easily with "Story Saver for Whatsapp". The app offers an easy-to-use interface to save any images or videos shared by your contacts.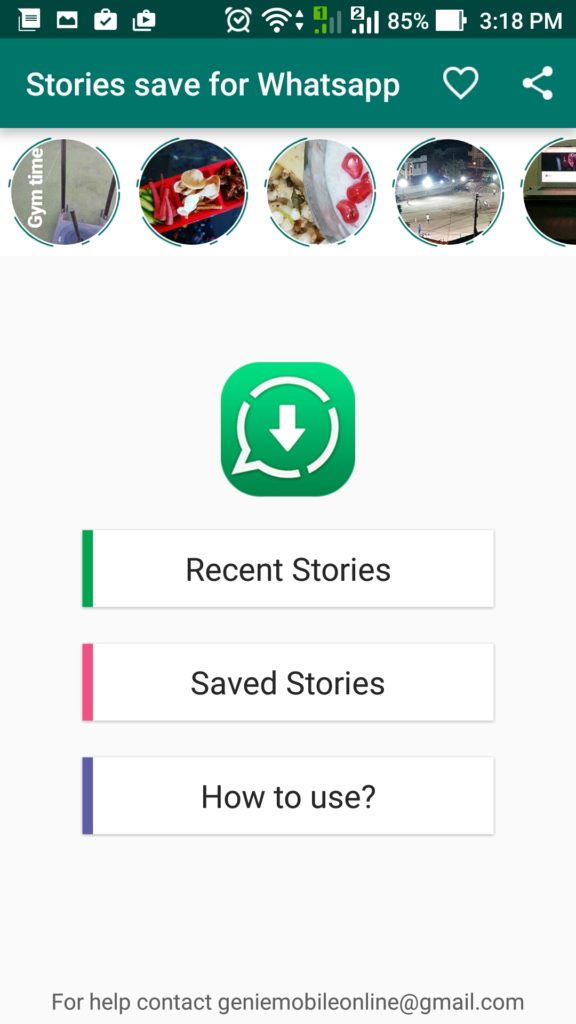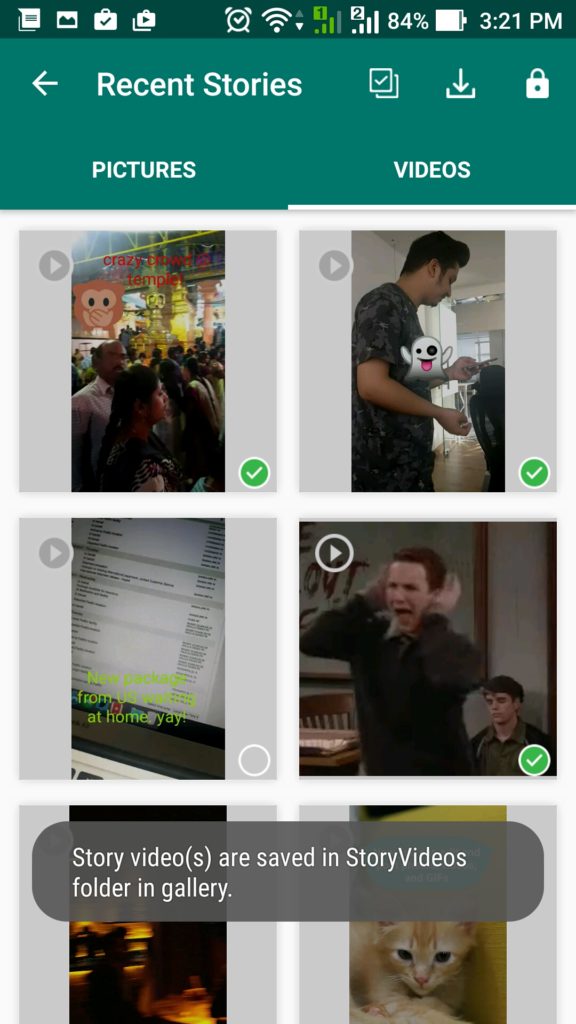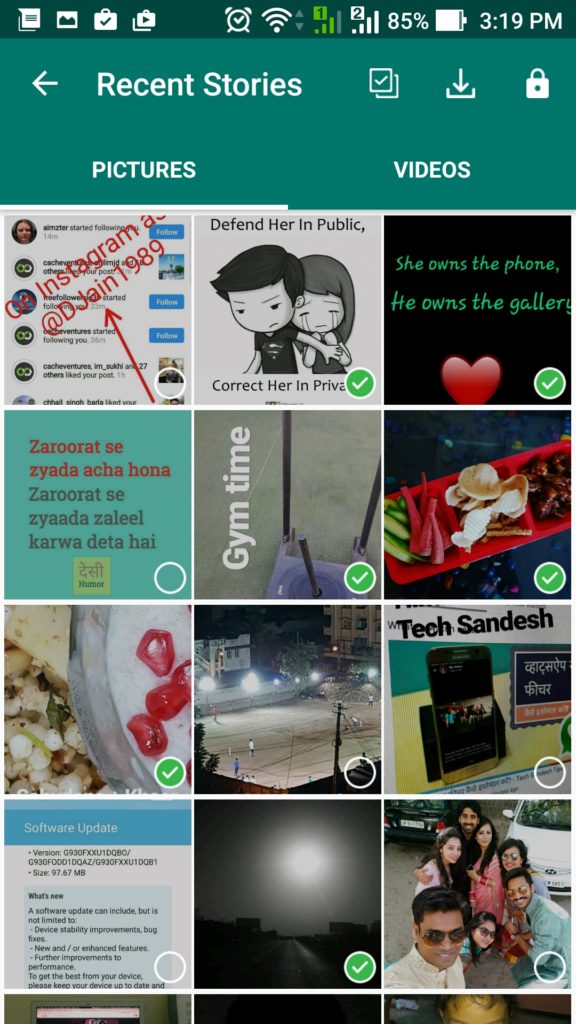 Install "Story Saver for Whatsapp" from Google Play.
Tap on "Recent Stories". The pictures and videos will be displayed in individual tabs.
Select photos or video stories to save. Multiple stories can be selected or all of them at once.
Click the download icon from the top.
The photos will be saved in 'StoryPictures' folder whereas videos will be saved in 'StoryVideos' folder inside the phone gallery.
3. Listen to Voice Message Secretly.
if you are in any public place and you want to listen to your voice message secretly so that no one listen to your voice message, first play your voice message and take your phone in your ears like you are talking to some one when you take your phone to ears voice will come form your earpiece you can here only in this way you can use this trick.
4. Use text Emoticons
Send text emoticons to your friends.
Text Emoticons provides more than a thousand useful text emoticons.
You can also make your own emoticons.
Download HERE
It's totally FREE!!!
Enjoy yourselves!
(((o(*゚▽゚*)o)))


[HOW TO USE]
1. Find an emoticon you want to share.
2. Tab the emoticon.
3. Choose a contact or a chat room to share the emoticon.
*Emoticons could be slightly misaligned depending on your devices.
5. Mark any Message as unread
sometimes what happens that you read the message and you think that you want to reply this later but you forget to reply, if this happened to you than this tick is useful for you
first tap that chat or group and then click on the three dots and then you'll see an option mark as unread click not that this type of green dot will appear here, so you can easily remember whom you have to reply so you can use this trick like that.
6. send message without saving contact
1. Phone number only

Url: http://wasapp.me/phone_number
Parameter
2. Phone number and message
Url: http://wasapp.me/phone_number/message
Parameter

phone_number
Must contain country code in front
eg: xxxxxxxx
message
If message contain whitespace
eg: Kashif Ali change to Kashif+Ali
http://wasapp.me/xxxxxxxxxx/
7. Send a Message by Tag-ing the Specific Person
Say if you want to send a special message to a special person so this trick is for you
first go to your WhatsApp group and then type @ after typing @ all person list will come across on the screen
who are in the group and then select that person and then type your message and then send
so all person will know that this message is for that person.
8. Use Whats App Web of Multiple Whats App Account
Control another WhatsApp with the same device!!!
*Super lite app
*Full access to the other account
– Read message
– Reply
– Change status
– Change profile pic
*App is based on WhatsApp web
*Know one know that you are spying
9. Automatically reply to your Whats App Message
What Reply is an application that provide to you a mechanism to auto respond to Whats App Messages in case you are Busy. Download This app from HERE
What-to-Reply is a FREE application available for Android Users, it is just like Whats App need the Internet connection on your device (phone, Tablet, Smartphone ..) .
This App will automatically reply to your family and friends even your wife when you aren't in the mood to reply to someone.
What2Reply will playing a role like a Bot who will answer on behalf of you.
10. Hides Whats App Chat while Chating.
You can hide your Whats App chat by this app
Mask Chat is a FREE unique digital Mask designed for android users to maintain privacy,
while having a private conversation on their smartphones.
Download & Install Mask Chat app on your android device. (For MI Users, please go to settings and manually provide permission to draw over other apps)
– Click on MaskChat app icon.
– Now A digital curtain opens to mask or hide your phone screen for privacy.
– Drag it up and down to hide their screens from onlookers.
– Adjust the opacity using the slider
– Enable touch through feature using the toggle button to keep a permanent mask on your screen
and use the phone through it while keeping the opacity to lowest.
– Click on cross icon and the curtain will close, leaving behind a floating Mask chat icon.
11. Brings Facebook like chat bubbles / heads to Whats App!
Download the Whats Bubble App from here
It brings Facebook's chat bubbles to WhatsApp! It focuses on smooth animations for a nearly identical user experience, and allows you to preview and respond to messages and quickly open conversations.
Ready to Unlock these Great WhatsApp Tricks?
These hidden WhatsApp tricks surely make the messaging experience better. So, try out these tricks and let us know how they worked out. Also, let us know your favorite WhatsApp trick in the comments section below.